Michael's Background
---
Early Years
Michael has been fond of food ever since he was a small child. While still in preschool, he would pretend to make clam chowder, caesar salad, and steak diane with his plastic kitchen utensils while his mother cooked dinner. In elementary school, he would help bake cookies and cook spaghetti dinners. His college essay compared himself to the ingredients in gazpacho, including a dash of Tabasco sauce (learning Judo for physical educations) and croutons for added texture (his quirky sense of humor).

College Years
With college came a move from the Midwest to South Florida where Michael became involved with the University of Miami Rathskeller, the on-campus restaurant staffed and run by students. As chairman of the Rathskeller Advisory Board, he was responsible for overseeing all student programming and activities there. This is where his passion for restaurants began to take shape. Whether it was planning a campus-wide Halloween costume party or a weekly happy hour, student enjoyment was always top priority for him.

After graduation, Michael began working as a manager at Buffalo Wild Wings and opened up the first BWW location in Lawrence, KS. This was shortly before it became a publicly traded company, so there was a heavy emphasis on improving procedures, controlling costs, and satisfying guests. Soon, Michael enrolled in the University of Kansas for an MBA, but over the summer, he was part of a national opening team – opening franchise restaurants and training bartenders in Chicago and Denver.

---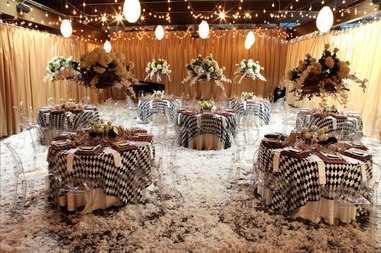 Professional Experience

Michael got his first taste of special event management his final year in graduate school, where he was a banquet captain and bartender for Maceli's, a premier caterer in the Lawrence, KS market. There he would work multiple weddings each week, along with catered functions for the University of Kansas and numerous business who used the hotel conference center where the caterer had an exclusive contract.
In 2005, armed with catering experience and an MBA, Michael began work at
Lon Lane's Inspired Occasions
, the premier catering and event planning company in the Kansas City metro area. Lon's clients included nearly all Fortune 500 companies in the KC area, their executives, and many prominent organizations within the city. Frequently, cost was not an issue. The clients wanted a memorable experience and entrusted the Inspired Occasions team to deliver. They would emphasize the
value
and the client appreciate the trust and respect Inspired Occasions had for the process.
There, Michael learned the importance of attention to detail. When organizing a dinner in excess of $300 per person, the client deserves perfection, and Michael would deliver! From ordering creating the menu and event layout to ordering rental and overseeing the staff, Michael made people's dreams come true.
While at Inspired Occasions, Michael was also able to use his marketing background and undertake a major rebranding project. The Catering Company became Lon Lane's Inspired Occasions, complete with a new name, logo, website, and all marketing collateral. He tracked the increase in website traffic and monitored advertising to calculate ROI. Traffic tripled, sales more than doubled, and Lon Lane's Inspired Occasions is now a much stronger brand than The Catering Company ever was.
To this day, Michael confides and consults with Lon and his team and they share food and catering related insights.
---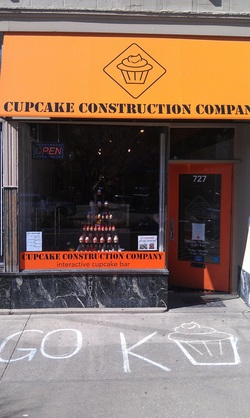 Cupcake Construction Company

After several years catering, Michael and his wife tapped into their entrepreneurial spirit and created Cupcake Construction Company, an interactive cupcake bar. Initially it was based in their house, and they would do deliveries or set up the cupcake bar at weddings and other special events. After months of hard work, planning, and raising funds, they opened their retail store in beautiful downtown Lawrence, KS.
Immediately after opening, Cupcake Construction Company was a hit. It offered a one-of-a-kind experience with great food and great service! Michael retained 9 of the original 10 opening staff members, a feat unheard of in the restaurant industry, especially in a college town. They all contributed to the uniqueness of the store and felt like they had ownership in it. First year sales reached $250,000, a 50-times increase from the previous year.
Michael oversaw all day-to-day operations of the store, including ordering, staffing, marketing, payroll, accounting and daily prep needs. He was also responsible for meeting with brides for wedding consultations. In 18 months, Cupcake Construction Company attended over 110 weddings. Only one bride (yes, really just one) who sampled their cupcakes chose to go with another bakery. The other 110 couples believed the product, service, and attention to detail that Cupcake Construction Company offered could not be matched by any other vendor.When the bakery's lease was up for renewal, Michael decided a three-year commitment was too risky, both personally and financially.
Today
Currently, Michael is a Marketing Manager with Treat America Food Services and
Company Kitchen
. Michael oversees all digital marketing efforts including the company's website,
blog
and inbound marketing content, email campaigns, social media feeds (organic and sponsored) and its active Google Adwords campaigns. In his spare time, he loves reading about the latest restaurant and food trends. Michael and his family dine out and frequently blog about
great service experiences
, as well as
epic failures
. Several of his posts have been featured on LinkedIn, one even becoming an
Editor's Pick
for the day. Michael is a member of several food groups online. Of course, he enjoys cooking for his family and friends and it is even more special when he has the help of his three-year old daughter, Mia.
---